At the moment I am focusing on Khachkars – the Armenian Cross-Stones. Through very dear Armenian friends here in Austria I got to know the story of the Armenian Cross-Stones and was immediately fascinated by them. Their charisma captured my imagination insomuch, that I decided to explore their story in "Stone Diary 3". Now I am looking for people who know about this topic, and try to get in contact with Armenian sculptors and historians.
I'll keep you up to date how this new project develops!
3.10.2015
On the web I have got in contact  with Professor Hamlet Petrosyan, a specialist in Armenian archaeology and cultural anthropology with focus on traditional world-perception, identity and behavior, monuments and iconography.
He is a Doctor of Historical Sciences and works at the Institute of Archaeology and Ethnography, National Academy of Sciences of Armenia. He also teaches courses on Medieval Culture, Culture of Khachkars and Armenian Identity at Yerevan State University. He has published a great and very informative website on this theme: Khachkars in Armenia – on the left sidebar there is the link!
09.01.2016
In November and December 2015 I engaged myself in studying the history of Khachkars in Armenia. I have also contacted a  very famous Khachkar Sculptor and hope for a positive response. My journey to Armenia will take place in fall 2016, I can't wait to see the Khachkars particularly the ancient ones in reality!
Armenian Ornaments – first artworks in my studio2015: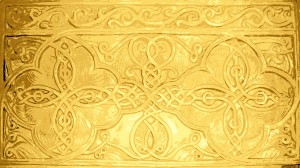 New works inspired by the story of Khachkars:

"Khachkar – Window",
woodcut print, 105cm x 30 cm,2020
This piece was showcased at the 1. Biennale dei Normanni/ International Art Expo in Monreale/ Sicily from 12.9.-18.9.2020.
The journey to Armenia was postponed but will hopefully take place in the next years !