At the Opening Reception with Ruthie Tucker, the gallery owner, and Kristal Hart interviewing the artists for the Kristal Hart Show. The exhibition is going on until 25th of August 2020.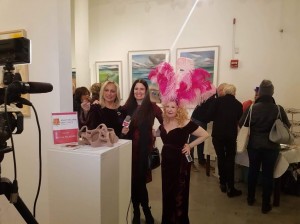 "Desert Rose"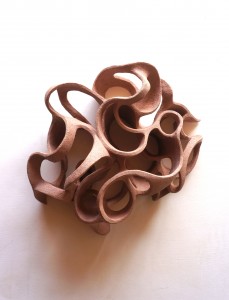 "Between"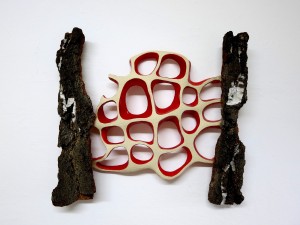 "Butterfly"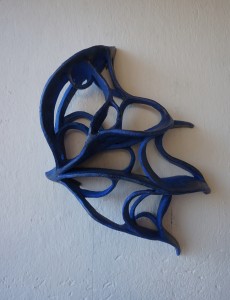 AMSTERDAM WHITNEY GALLERY
HELGA PALASSER
"Coeur a Coeur"                                                                       February 8 – August 25, 2020
Guided by Leonardo da Vinci advice, "Where the spirit does not work with the hand, there is no art," Helga Palasser's sculptural artwork is inspired by this credo.  Believing that when realistic and abstract elements converge, the result is inter-dependency and a fluent transition between the shapes of nature, as well as the shapes of our perception and the shapes of our imagination.  The dialogue between Helga Palasser's two-dimensional and three-dimensional burned clay sculptures are driven by her systematic approach and empathetic representation of the beauty of life. As her art creates a conversation between the new abstract, geometric, contemporary works, she intermingles the old with the new, intermixing historical references into her oeuvre.  By simplifying the visual compositions and eliminating the excessive, her modernist pure abstraction and reduction of form and color create parallels between herself and 20th century masters and old masters.
In 2010, the Austrian born Helga Palasser started to work on the "The Stone Diary," a book series documenting her intercultural artistic cooperation. Inspired by her interest in foreign cultures, her quest was to connect cultural and social economic development through the arts between different cultures. Ms. Palasser stated: "The reason why I have developed the "Stone Diary" was because I have been frustrated by people's misconceptions of foreign cultures I have also wanted to use my position as a sculptor to, in some small way, change people view other cultures. By creating and producing artworks, I wished to combine the creative process with a greater project involving other sculptors and people all over the world, with the aim to abolish stereotypes and misconceptions of foreign cultures around the globe."  Documenting her artistic activities in foreign countries, "Stone Diary" is an ongoing book series that encourages socio-eonomic development through artistic projects.  Among the countries with whom she has worked to discover similarities as well as differences are Zimbabwe, Nepal, Italy, France, Austria, Cyprus, Armenia, Germany and Switzerland.
Exploring cross-cultural experience within her work through materials that elevate and shape the natural understanding of the world, her sculptures illustrate the fluidity in construction. Accentuated by elegance and fluidity, Helga Palasser's burned clay sculptures reflect the sculptor's ease with her materials and mastery of her tools. Challenged by a multifaceted, divided and conflictual reality, Ms. Palasser chose sculpture as an artistic technique.  Compellingly, her burned clay surface treatments create contrast and tension, guiding the eye across each sculpture, polished and reflective, giving way to raw and organic.
Motivated to bring people together through art, the globalite Helga Palasser has exhibited extensively in Europe, namely Austria, Germany, France and Italy.  Internationally recognized, her sculptures are housed in prestigious private and public collection in Europe.  Amsterdam Whitney Gallery is proud to showcase the sculptures of this cosmopolitan art star.