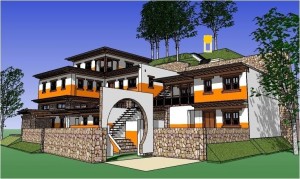 What is it about?
A peace sculpture will be created for the Miteri Peace Learning Center in Jumla/ Karnali. This  undertaking comprises to become firstly aquainted with the Nepali culture and gather knowledge about Rhada's vision and then to make some proposals by means of drafts of the peace sculpture. Following this to go there and realize it with the help of the residents and the available material there.
This artwork should express the idea behind the Peace Learning Center and will be approximately two meters high and one meter in diameter.
Who is Radha Paudel ?
Radha is the founder of AWON, www.actionworksnepal.orgl, an organisation in Nepal based on the principles of Miteri, an indigenous practice of mutual love and respect. The team engages in social issues and works hard to improve the often very tough living conditions in Nepal. For more information follow the links about Radha and AWON on the blogroll.
Jumla is Radha's hometown and after surviving the civilian war in 2002 she wrote a book about it and started to envision the Peace Learning Center.
By establishing the Miteri Peace Learning Center she wants to commemorate the people who died during the civilian war that took place twelve years ago. Radha survived and wrote a book about it. 10 % Royalty of each sold book goes for the construction of the Peace Learning Center.
Intercultural aspects:
Another motive for Radha is that she wants to open up her hometown Jumla as a venue for cross-cultural meetings, to exchange knowledge sharing values between all people.
According to Radha it is a matter of fact that there exist so many different forms of culture, customs, practices, rich in natural resources related to peace and justice which are not even recognized by the external world. Radha's vision is to build a connection to external world, empowering the local youths, employing conflict affected women, educating the community through the learning, research, sharing at local, national and international level.
Now time has come for the realization and I feel very honoured to be enclosed.
My motivation:
I am willing to support the visions of Radha with my artpiece  because I appreciate her social engagement very much. Her work is based on the thoughts of the Miteri practice which is a pure practice of peace building.
Miteri is an indigenous practice of mutual love and respect, regardless  which caste, religion or region you belong to. It involves cultural diversity, and practicing of inclusive intercultural engagement. It's approach as matter of equality, fairness and justice which are matter of human rights as international laws. A practice turning ignorance or prejudice towards others into partnership and friendship, turning problems into opportunity, and crises into new chances.
This method reminds me of the concept of social sculpture of the artist Joseph Beuys. His point of view was that the world itself is a social sculpture where everyone is responsible for its development. Everyone can contribute to change it for the better. This social approach corresponds with the practice of Miteri.
Moreover I firmly believe in the transformative power of the creative spirit – in art, in education, in business and in development.