My  motivation for the project the "Stone Diary"
The reason why I have developed the "Stone Diary" was, because I have been frustrated by people's misconceptions of foreign cultures for a long time. I have also wanted to use my position as a sculptor to, in some small way, change people view other cultures.
By creating and producing artworks I wished to combine the creative process with a greater project involving other sculptors and people all over the world with the aim to abolish stereotypes and misconceptions of foreign cultures around the globe. Looking for a medium to convey this message I developed during the MA programme for Cultural Production in 2010, this idea further. The result was the "Stone Diary", which is an ongoing book series that documents my artistic activities in foreign countries.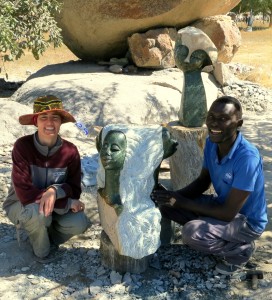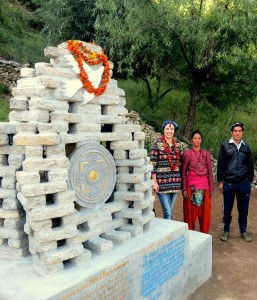 By now two volumes in 2012 and 2014 have been realized. Fortunately I have found sculptors in Zimbabwe who were willing to work with me on my first volume of the Stone Diary. The second volume is about our experience how we have built the Miteri Peace Sculpture for the people of Jumla in West-Nepal.
At the moment I am focusing on Khachkars – the Armenian Cross-Stones. Through very dear Armenian friends here in Austria I got to know the story of the Armenian Cross-Stones, and was immediately fascinated by them. Their charisma captured my imagination insomuch, that I decided to explore their story in "Stone Diary 3". Now I am looking for people who know about this topic, and try to get in contact with Armenian sculptors and historians.
My personal intercultural engagement in my artistic project aims at
finding out about our similarities not only differences between different cultures
promoting intercultural encounters
encouraging socio-economic development through artistic projects
making people visible
creating a piece of art by facing up a different culture and involving residents
abolishing prejudices against the "other"
building partnerships
mediating cultural knowledge through my book series "Stone Diary"