04.01.2021 – 31.03.2021 Artbox Project World 1.0
Artbox Gallery
Giessereistrasse 1, 8005 Zürich, Switzerland
23.10.2021 – 31.10.2021 Florence Biennale XIII, Florence, Italy
03.11.2021 – 22.11.2021 Artifact Gallery, 84 Orchard Street, New York
02.12.2021 – 03.12.2021 FIABCN 2021, Fira Internacional d'Artde Barcelona
_______________________________________________________
Artbox.Project Zürich 2.0 from 20.8.-24.8.2020
In Zürich two of my works were showcased, one was "THIRD SPACES: The Bridge to the Other is Imagination" that was already showcased at the Venice Art Biennale 2019, and a new wall installation made of Spanish clay called "FLOW of WAVES".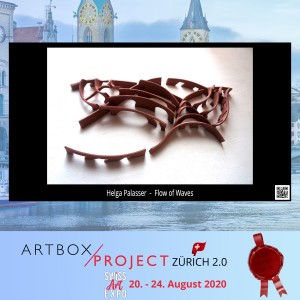 1. Biennale dei  Normanni in Monreale/Siyily from 12.9. -18.9.2020
In this 1.International Art Expo at the Villa Vittorio Veneto in Monreale a woodcut of an Armenian crossstone/ Khachkar was showcased.
Shibuya Station Exhibition/ Tokio from 14.9.-20.9.2020
In the Shibuya Station in Tokio the artpiece of Venice was showcased again !
THIRD SPACES showcased in Tokio